CD-DETAILS THE FIRE WITHIN [MUNROE, RONNY]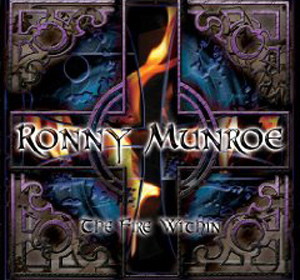 WEBSITE:
www.ronnymunroe.com
| | |
| --- | --- |
| | |
Ronny Munroes "Fire Within" ist aus einer großen Leidenschaft heraus entstanden. Frustriert darüber, nicht mit Metal Church touren zu können, zog Munroe von L.A. zurück nach Seattle.

Nun stand er vor der Wahl, einen "9-to-5" Job anzunehmen oder eine neue Vision zu kreieren. Munroe traf seine Wahl und setze sich mit Eifer in seiner neuen Wohnung daran, "The Fire Within" zu schreiben. Zugleich der Opener "Far" zeigt mit seiner unverkennbaren Kraft, wie Heavy Metal zu definieren ist und erinnert uns daran, warum Munroe der Frontmann der legendären Band Metal Church war. Dieser Song stellt nur den Anfang einer Reise dar!

Mit der Hilfe einiger Gäste wie u.a. Michael Wilton (Queensryche) bei "Sea Of Sorrows" und "What You Choose To Call Hell (I Call Home)", THC (Texas Hippie Coalition) bei "Ride Me" und dem brillanten Gitarristen Rick Van Zandt wird "The Fire Within" eine Macht, mit der man rechnen muss. Als Co-Produzent fungierte hier Kurt Vanderhoof (Metal Church).

It's true, it's pure, it's in-your-face – und spricht jeden Metal-Fan an!


---


Ronny Munroe's "Fire Within" was created the way a true metal album should be — with nothing but spirit.

Frustrated, unable to tour with Metal Church (on hiatus), and forced to relocate from L.A., Ronny found himself back in Seattle. What was originally supposed to be a 2009 festival-headlining tour with Metal Church turned out to be one man, forced to decide between joining society as a "9-to-5'er" or creating a new vision. Ronny chose his path—with "pen in hand" and an indomitable spirit, he sat in his small apartment and drew from "The Fire Within."

Track one, "Far," is an opener like no other, an undeniable force which sets the pace for a redefinition of metal that reminds us why Ronny fronts the legendary band Metal Church. From start to finish this passionate offering takes you on a journey. With a little help from guests like Michael Wilton (Queensryche) on "Sea of Sorrows" and "What You Choose to Call Hell (I Call Home)", THC (Texas Hippie Coalition) on "Ride Me", and the brilliant work of MC Guitarist Rick Van Zandt, "The Fire Within" establishes itself as a force to be reckoned with.

This vibrant 12-track offering is no joke and no lie. It's true, it's pure, it's in-your-face, and will satisfy metal lovers from any genre. Co-produced by Kurt Vanderhoof and Ronny himself, this powerful release will stand the test of time!

(Quelle: GerMusica Promotion, 2009)

FORMAT: CD